At the hospital where my sons were born, my boys were given Philips
AVENT Soothies
with my permission by the NICU nurses. They were the only pacifiers they would take at such an early stage. I especially liked that I didn't have to worry about them hurting themselves on hard plastic pacifiers, because Philips AVENT Soothies are made of hospital-grade silicone and are bendable and gel-like instead. They also don't have the ring that others have, which can flap up and hit a babies' nose. Instead they feature one-piece construction, which adheres to American Academy of Pediatrics (AAP) guidelines. They are BPA-Free and Latex-Free too.
They even come in different colors now, not just the classic green that they gave us at the hospital, but yellow, blue, purple and pink. This is especially helpful for twins, so I can know whose is whose after I find them hidden in blankets or tossed under the crib.
Now that my boys are 9-months-old they will pick up these Soothies for teething as well, so I'll often keep a pair in my diaper bag and in the freezer.
I recently attended an
Philips
AVENT
blogger brunch for parents and discovered that they make a new Soothie with a comforting vanilla scent. It smells great and I just stated giving them to the boys for teething.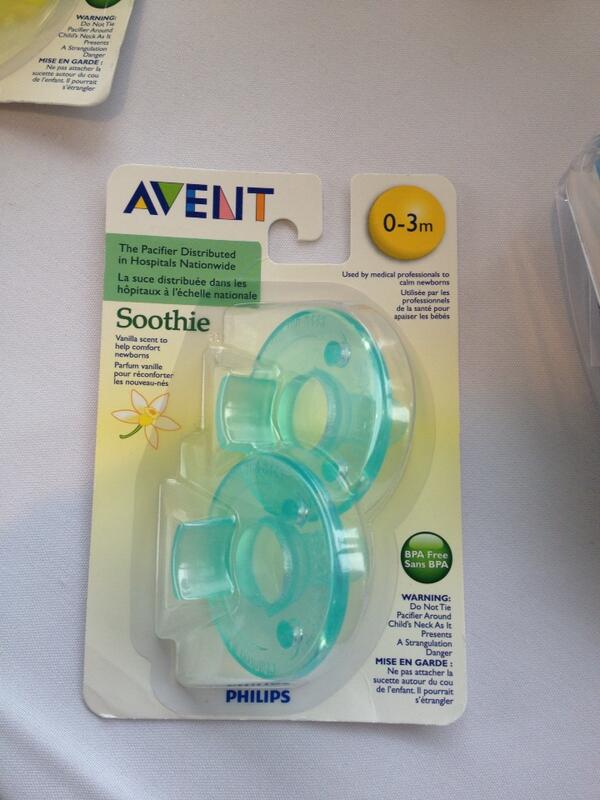 Vanilla Scented Soothie from Avent
We also started using their
Spout Cups
for drinking water on their own. They have no problem holding on to the handles and putting it in their mouth, but they also like to hold them upside down and bang them on surfaces, but luckily the spilling is minimal thanks to the non-spill spout. This Philips AVENT cup is made from BPA free material too and is dish-washer safe for easy cleaning.
You can try these products out too if you're the lucky winner of the following giveaway of two 2-packs of Philips AVENT Soothies and two 6m+ Spout Sippy Cups. Good luck!
a Rafflecopter giveaway
Disclaimer: I received samples to facilitate my review, but all opinions are my own and I did NOT receive any compensation.