Yesterday, I was one of many commuters (approx 8,000) and media who received a dose of optimism in the form of a free cup of Life is Good coffee while passing through at Penn Station.
Life is good®, the brand made famous for it's happy stick figure t-shirts and merchandise, is now in the coffee business partnering with The J.M. Smucker Company to make premium home brew coffee. Having grown up sailing, I used to always see their silly shirts being sold in the seaside towns and they would always make me smile, which is good because the company's goal is "spreading the power of optimism."
While chatting to the companies' employees, I also learned about the companies philanthropy efforts and how Life is good donates 10% of its net profits to help kids in need
through the work of the
Life is good® Kids Foundation.
I'll raise a mug to that!
Life is good Coffee
is made with 100% Arabica beans, is UTZ certified and comes in five positively delicious flavors:
•
Light Hearted
– A smooth, mild, light-bodied taste is the perfect way to start the day.
•
Happy Medium
– A harmonious compromise of light and dark roasts crafted to help you find and savor a deliciously even state of mind.
•
Dark & Daring
– A big and bold blend that knocks your socks off.
•
S'more to Love
– A rich campfire classic that features melty chocolate, graham cracker and fluffy marshmallow flavors.
•
Banana Bread Bliss
– A surprising blend of bananas and brown sugar that delivers the comforts and coziness of home.
I sampled the S'more to Love and it was indeed yummy since I like flavored coffees. I also posed for the pic below, which expresses how I like my coffee (weather, men, life and so on... ;) extra HOT! lol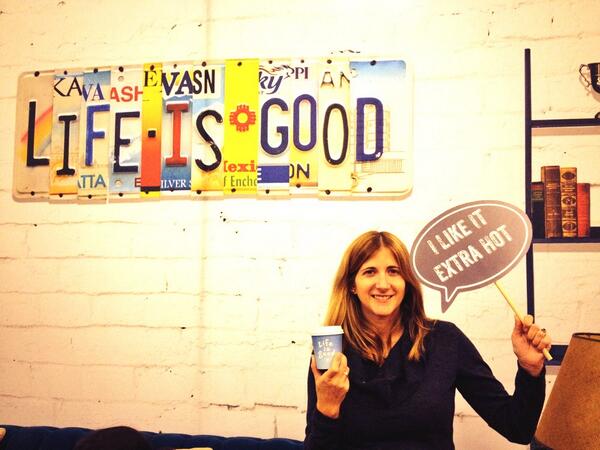 Life is good Coffee retails for $7.99 for an 11oz. bag and is available at grocery stores nationwide and at Lifeisgood.com.
I hope to spread the optimism too by
giving away the following gift bag
for a super soft Life is good t-shirt, mug, bag and coupon worth a total of $50. Enter below and good luck!
a Rafflecopter giveaway
Disclaimer: This is a sponsored post, however, I agreed to participate based on my interest in the brand. All opinions and thoughts are naturally my own.