I am a member of the Collective Bias Social Fabric community. I have been compensated to share my experience with you by Collective Bias and their client, MasterCard.
Now that we're parents, Raphael and I haven't had a date night in a while. Sure we see each other while playing, changing and feeding the boys, but it's not the same quality time together. We still go out, but usually not together. That didn't sound right. What I mean is that one of us will usually stay home with the boys, while the other catches up with friends or I'll head to a blog event and he goes golfing, etc. We've been good about making sure we do get out of the house for some "me" time, but we also need to work on spending alone time together too. Thus, our recent
MasterCard Priceless New York
Date Night at
Dizzy's
Club Coca-Cola for an evening of Jazz at Lincoln Center was just what the love doctor ordered.
Dizzy's Club Coca-Cola soars several stories above the expansive vista of Central Park, offering amazing views of NYC and presenting the best in live jazz performance seven nights a week. For jazz in New York City, there is no place like it.
We were also able to watch the sun set during the jazz band's performance thanks to the amazing wall-to-wall windows behind the stage. It was really lovely, both the music and the setting.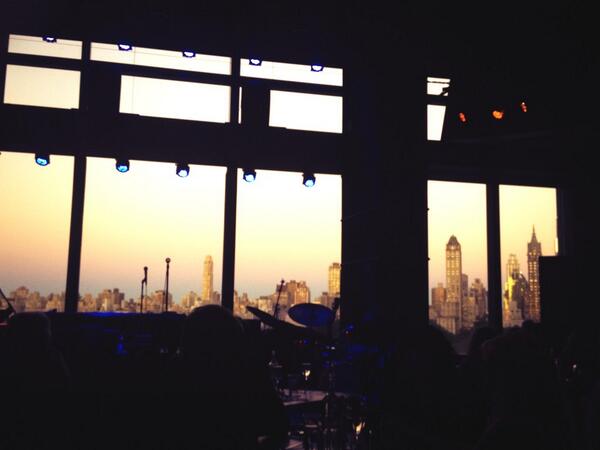 Our date night was made possible by taking advantage of MasterCard's
Priceless Opportunities
, a new level of culture, adventure and discovery though special offers just for MasterCard cardholders. (I already use MC to purchase discount Yankees tickets too). Just visit their website and receive exclusive access to sports, culinary, arts and entertainment experiences and discounts to your favorite New York restaurants and shops. So, for just $35, we were able to
enjoy a date night out at Dizzy's Club Coca-Cola, which came with a table for two, music, drinks and more.
I wouldn't have known that this place existed if it wasn't for
Priceless New York
. In fact, I had walked by that elevator bank in the Time Warner Center at Columbus Circle many times and never knew Dizzy's was upstairs. MasterCard's Priceless Cities tagline reads: "
Experiencing New York like Never Before"
and that proved to be true. It was a pleasant surprise discovering a new city gem with my husband. I look forward to taking out-of-towners there one day. The experience was also intimate and the staff was super friendly. I truly felt like we were at an exclusive event, which we were.
For more photos from our night out, check out my
Google+ album
.
During the evening, we struck up a conversation with two women sitting next to us from Queens and they had heard about this offer because they subscribe to
Priceless New York
's e-mail list. So, if you're a MasterCard holder you can attend Priceless Opportunities like this as well, just
sign up at:
http://mstr.cd/178Glnd