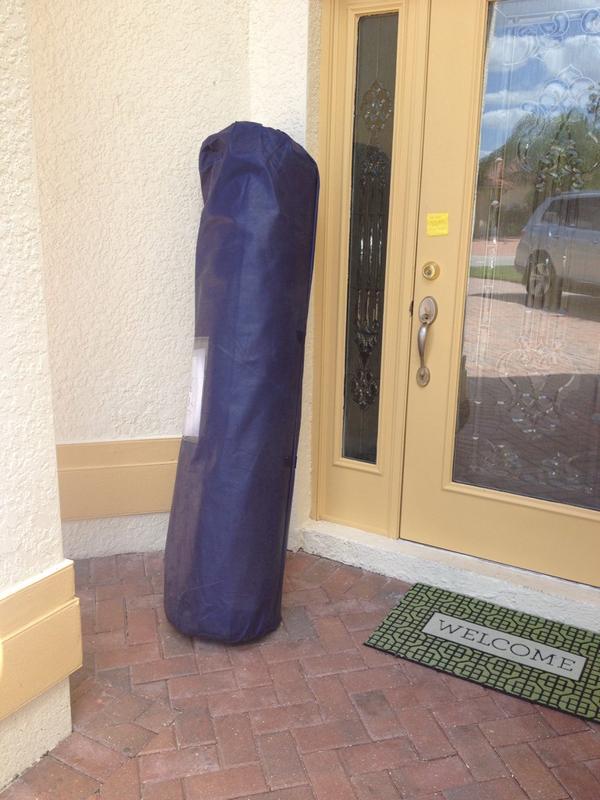 Now this is really cool!
Take a look at what just arrived on our doorstep ... a new queen sized mattress. Yes, that long roll is an
ultimate cloud 12" gel/memory foam mattress
from Signature Sleep.
For convenience and cost savings,
Signature Sleep
quality mattresses are shipped
compressed, rolled and vacuum sealed
straight to your door, resulting in a minimal carbon footprint. You can order from
Amazon
, Wayfair and Walmart with free shipping and depending on the mattress size (Twin-King) it only costs between $219-$410. I was a little skeptical and nervous about ordering a mattress that I had never tried out, but it worked out splendidly!
It was so easy and fun to unpack too! It expanded almost immediately; it was hard to imagine that it was ever rolled-up to begin with. Just watch the unpacking process as seeing is believing:
Previously, we had purchased our old expensive Euro Top mattress after our wedding almost 6 years ago. It was nice at first, but soon developed a lump in the middle that became the great divide between Raphael and I, lol. The lump became even more pronounced after the mattress was placed on it's side for over a month during transport from our move from Los Angeles to New York. This then started causing back and neck problems for me. So, when it came time to move again, we didn't want to spend the money moving the heavy mattress, when we weren't even that happy with it. I also wanted to try a memory foam mattress since I'm a light sleeper and I know it absorbs movements better.
This time, we went with a
gel-infused memory foam
mattress top, which allows for a cool night's sleep, so perfect for the warmer weather of Florida now.
Here is the full description:

"Conforming to the curves of your body, this 11-inch mattress perfectly combines gel, memory foam and five-zone foam for a restful night's sleep. Its gel-infused memory foam provides a fresh and cool sleeping surface and also helps distribute weight evenly between sleep partners. The five-zone foam is designed to relieve pressure along five specific areas of the body — head/shoulder, upper body, spine, lower body and legs. With a four-way polyester stretch cover, the Signature Sleep Ultimate Cloud Mattress is a must have in every bedroom!"
Signature Sleep mattresses also contain foam whose manufacturing process is certified
eco-friendly
. Their manufacturing process also prevents volatile organic compounds (VOC's) from being released into the atmosphere. Be sure and follow
Signature Sleep on Facebook
for the latest mattress news and information.
By the way, we are so pleased with our new mattress that we then purchased another Signature Sleep mattress for our guest room.
Disclaimer: I received a product sample to facilitate my review, but I liked it so much I purchased another mattress for our other room at our own cost.