Product Links:

Follow Me

Ben and I got to have our mom and son outing this week while attending The Moms Planes 2 Mamarazzi screening sponsored by NatureSmart, the makers of Disney, Marvel & Star Wars vitamins for kids. Logan and I had spent some quality alone time at the Sprout Astroblast launch, so now it was Ben's turn to be away from his identical twin for a bit. He was quite stoic and serious alone, but seemed to have a good time experiencing the first of many firsts.

He had his first hot dog thanks to
WindMill Hot Dogs
from the Jersey Shore area (Mommy liked them too). He then made his first Step & Repeat photo opp too, while still eating a hot dog, lol.
It was also his first ever movie (Planes: Fire & Rescue) and the first time sitting in a movie theater.
I was prepared to leave if he got cranky and disrupted the other viewers, but fortunately he did beyond well. He didn't like sitting by himself as he wasn't quite heavy enough to keep the seat from folding shut on him though, so after I moved him to my lap and he simply sat quietly enthralled with the soaring and moving animated planes on the screen. I joked that the poor kid must have been confused not having seen the first Planes movie, hehe.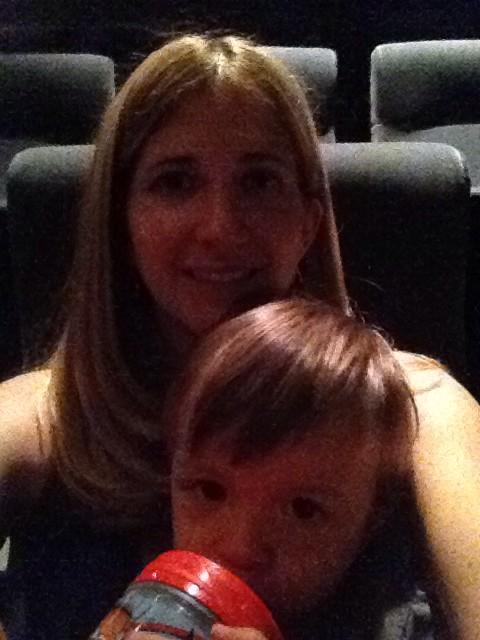 I actually saw the first film though and enjoyed the second one better, same thing with the Cars films too. Oh and did you notice I had Ben dressed in a Disney Cars tee, Crocs and sippy cup? Having formerly worked at Disney Consumer Products representing the fashion business, I had to make sure he dressed for the occasion after all.
Lastly, it was also his first celebrity sighting! Julie Bowen, the Modern Family and Boston Legal actress was there for a quick Q&A and to introduce the film. Bowen provides the voice of the plane Dipper, which was a really fun character. I was delighted to see that she was just as silly and bubbly in person as she appears on TV.
Parents, sign-up to get a
FREE NatureSmart sample
of Disney Gummy Vitamins
here
. You can download a
FREE Race To The Rescue Activities
PDF file for your kids from Disney via the following button:
Posted by Tara Settembre on Friday, July 25, 2014 | 0 comments