I knew Samsung Electronics for its smartphones, but during BlogHer 14 I learned that they are also America's fastest growing appliance brand giving new shape to the home appliance landscape for moms, inspiring them to "master their home."
I love touring people's homes, which is why I geeked out at the Samsung Home Appliance setup at the conference, which provided a glimpse inside the ideal high-tech, professional kitchen. Their Chef Collection of kitchen appliances -- a suite of premium culinary appliances inspired by renowned chefs from around the world were on display.
Who knew a fridge could be down right sexy?
Sounds weird, but these babies had my jaw dropping in awe.
The 34 cu. ft. Ultra-High Capacity 4-Door French Door
Chef Collection Refrigerator
has an automatic built-in
sparkling water dispenser
! I would love that, since sipping sparkling water with lemon always seems to help me drink more and is so refreshing. As you can see in the following pic, the refrigerator also features a new sleek and seamless temperature display where
LED lights
shine through micro-pinholes to display temperature settings. How sick is that?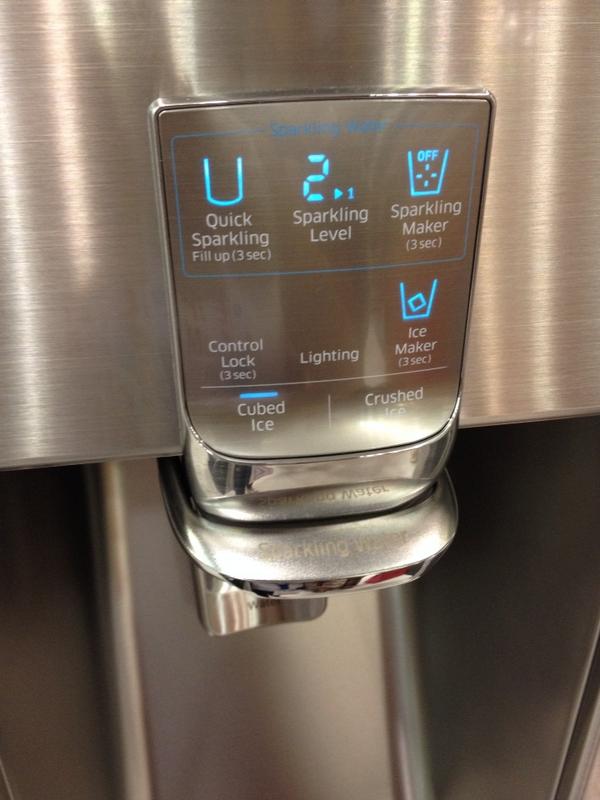 For those with big families, it is also the largest refrigerator in its class for an extra-large capacity that can hold up to
34 bags of groceries
. Wow! My current fridge is so too narrow that once the twins were born we had to get a separate mini fridge for the boys milk and a freezer in our garage for more food storage. Also, the
versatile bottom drawer
can function as either a freezer or a fridge, maximizing fresh food storage space.
For
cloth diaper fans
Samsung Home Appliance also makes a
Baby Care personal washer
that is small, quiet and great for a nursery or upstairs room and perfect for cloth diaper loads. I was really impressed to hear that it was designed especially for baby needs. It features
high temperature sanitation
and a
soft close lid
that can be easily open and close without a sound. The dual lid contains a childproof lock for controls and doors. Plus, the heat-proof door helps protect your baby. Very cool to have these child-safety features already built-in. It's available for purchase on
Amazon
too.
Disclaimer: This is sponsored post through Mom Central/BSM Media. I received compensation in exchange for writing about my booth visit and tour. All opinions are my own.