Earlier this summer, I attended the Cracker Barrel Chicago Cheese Challenge. Although I'm a fan of cheddar and the award-winning
Cracker Barrel Cheeses,
I had RSVP'd, but wasn't expecting much from a cheese event, lol. However, it ended up being one of the more fun and interactive blogger events that I've attended. Kudos to their PR team!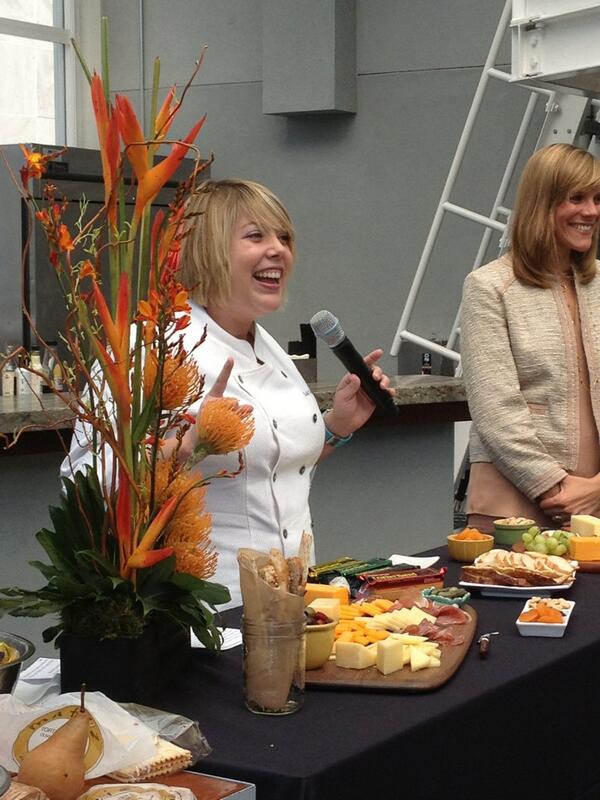 Why was it fun? The party included an appearance by
Top Chef
finalist and executive chef
Sarah Grueneberg
, plus a culinary presentation from a professional food stylist and a fun cheese competition that pitted blogger vs. blogger
First, Sarah gave us tips on preparing a cheese plate for the next time we entertain at home:
Use seasonal fruits and local fruits to pair with the cheeses. Thus, if it's blueberry season, put out some blueberries.
Also, vary how you cut the different cheeses that you are putting on your plate for both presentation and texture. I thought that was interesting, because although I usually see this done at buffets, I never do it at home, but will have to try it next time.
Now, the really fun part, the challenge! Armed with these tips (there were others, but those were the only two that stuck with me, sorry), we were all given our own workstation, a knife and a mystery box. Inside the box was a theme and some props. We then had 20 minutes to prepare a cheese plate around our theme. Some people had things like The Superbowl, Valentine's Day, Cinco De Mayo, etc.
My box revealed "
Fourth of July BBQ
." At first, I was like "oh great, I give up now." I then focused on the colors red, white and blue and along with the other bloggers, I dashed off to the food table to grab some items for my plate. I snagged some blueberries, strawberries and white cheddar cheese. Here is the end result:
And although I didn't win, I enjoyed the competition :)
Tweeting my Cheese plate creation
Extra:
My review of
The Family
is now up on ShakeFire.com -
http://www.shakefire.com/review/the-family