Raphael, the boys and I are back in Florida, this time for the
Disney Social Media Moms Celebration
. I'm super excited to be among the select bloggers invited and attending the annual event. I've really needed my Disney fix.
Although I've been to Disney World several times before, this is the first time I'm going as a mother with two boys. It's a bit surreal to be their as the parent now. Yes, I know they are not even 6-months-old yet, but it's still thrilling knowing it's their first trip to Disney World. I can't wait to take photos of them with different characters. I went out and bought them even more Disney Baby outfits to wear too. I think for a change, I'm going to go all matchy matchy on them. If not now, when?
You may already be familiar with
Disney's Magical Express
, but being my first time traveling with kids, it was new to me and it rocked my world! Basically, it's a complimentary airport transportation service and luggage delivery for guests of select Walt Disney World Resort hotels. I had signed up for the free Magical Express service two weeks before our trip and they mailed me a packet with tickets and luggage tags to put on our bags:
We then checked in our bags at the departure airline and once we landed, we simply stepped off the plane with babies in our arms, bypassed baggage claim and caught a bus straight to our hotel. It was like having a Fast Pass through the airport. Disney fairies then grabbed our bags for us and delivered them directly to our room within 3 hours. It was indeed magical! Between our diaper bags and
flying with infant twins
we already had our hands full. Going back should be even easier as we just check our bags in at the hotel when leaving instead of at the airport, they print our boarding passes too.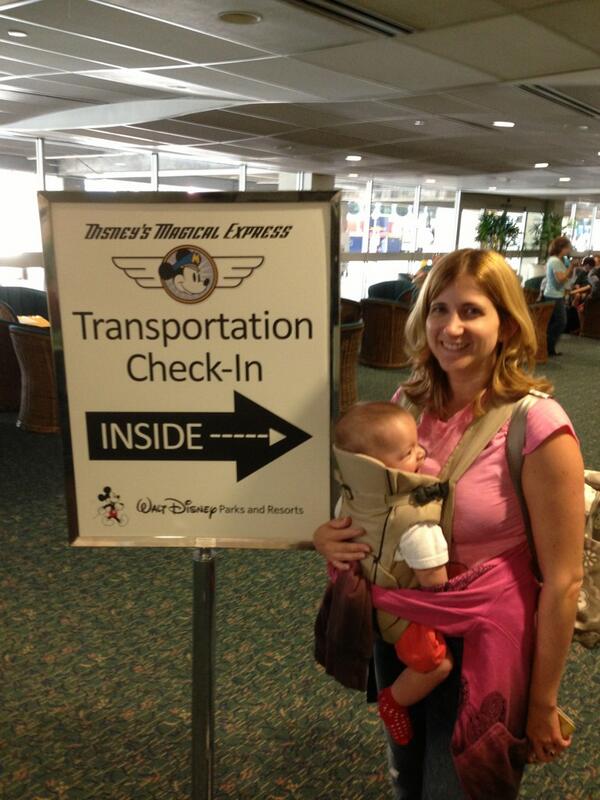 We are staying at
Disney's Contemporary Resort
. Below is the view from our balcony and the Mickey surprise that was waiting for us on the bed.
Stay tuned for more Disney magic and news from the conference, you can also follow
my tweets
and
Instagram
profile for the latest and greatest pics and updates as they happen.
*FTC Disclosure: I was invited to the Disney Social Media Moms Conference. I paid a fee to participate. All opinions are my own.